Our History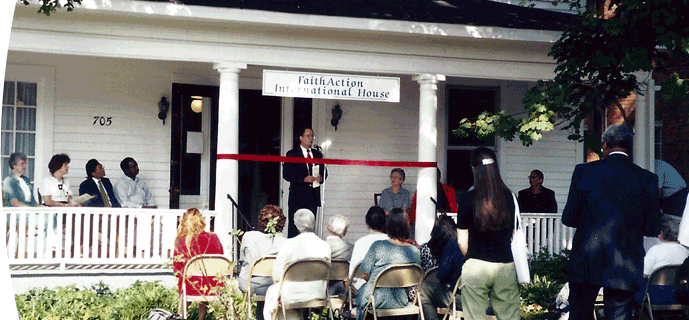 The idea for FaithAction International House began 15 years ago with the vision of Rev. Dr. Mark Sills, who recognized the unique challenges and gifts of our changing demographics in North Carolina.  Inspired by the significant influx of new immigrants to Greensboro and the tremendous potential of our diverse communities working together across lines of culture and faith for the common good,  Mark and many other community leaders made plans for the creation of an "International House."  These diverse leaders envisioned a welcoming home in the Piedmont Triad where our newest immigrant neighbors could receive assistance and friendship, and volunteers from numerous faith communities and cultures could act together to help "solve the puzzle of diversity."
FaithAction officially opened its doors in downtown Greensboro on Sept 12th, 2000.  Since this time FaithAction staff, board, and volunteers have served and advocated for over 20,000 immigrants and refugees, and have provided educational trainings and multicultural and interfaith dialogues and community building events for tens of thousands more throughout North Carolina.
While FaithAction is a very unique organization at this important time in our nation's history, we understand our story to be deeply connected to the Settlement House movement from a century ago, when 1 out of every 7 people living in the United States were new to this land.  Settlement House workers throughout the United States were inspired by their faith and moral values to create an interdependent community where residents lived, shared knowledge and culture with, and helped to alleviate the poverty of their immigrant neighbors.
Today, 1 out of every 8 people are new immigrants, and in the midst of another significant demographic shift many communities find themselves asking the same question – will we fear one another as strangers or embrace one  another as neighbors?  A hundred years later we are proud to continue in the spirit of this work, helping communities choose to embrace the gifts of our new diversity, and to grow in our understanding, trust and cooperation of one another towards a better, more united community for all – turning strangers into neighbors!