Theater and the Arts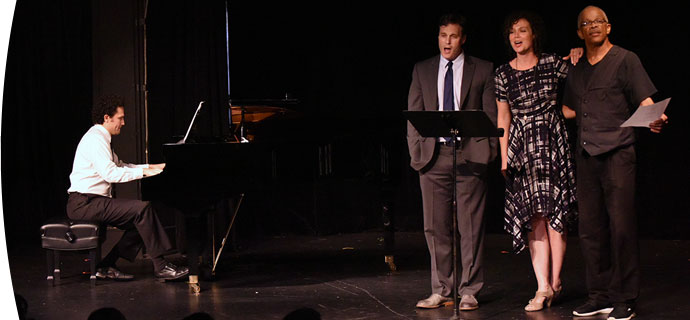 Theater and the arts are one of the best tools we have to tell stories that bring to light the full humanity of each one of us, while also lifting up the unique gifts of our newest neighbors.  Dance, music, poetry, and photography are always a central part of our Stranger to Neighbor events, as well as our educational trainings and presentations.
Recently FaithAction produced two theater productions to help educate and connect our diverse community.
Out of the Shadows tells the courageous and hopeful journey stories of eight of our newest immigrant neighbors through theatrical monologues and photographic portraits. Out of the Shadows played for three performances at the Triad Stage as a part of the One City, One Book initiative of the city libraries, and is available for future performances.
A Place for Us is our annual musical fundraiser revue about unity and the immigrant experience, using popular musical theater selections to help us better understand and appreciate the gifts of our tremendous diversity.  A Place for Us is annually performed in the fall each year.
We also recently partnered with human rights artist Todd Drake to produce A Journey Like Us, a compelling set of photos and stories from a diverse group of students from Northeast High School.  The exhibit, currently on display at FaithAction, powerfully explores the unique gifts and struggles of immigrant teenagers, striving to move beyond stereotypes.
For more information on these productions, contact Rev. David Fraccaro at 336-379-0037, ext 2, or dfraccaro@faihouse.org.