Stranger to Neighbor Communities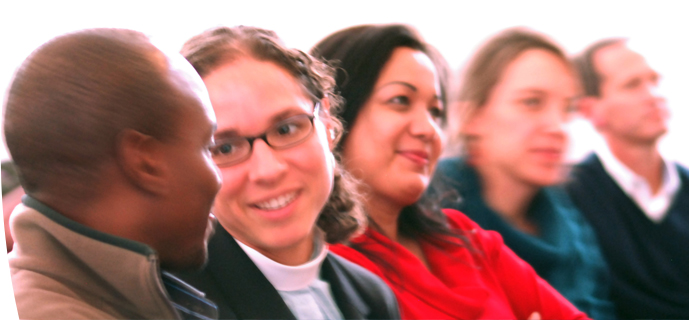 Over the past 20 years, communities in North Carolina and across the in the United States, have experienced a significant influx of new immigrants, bringing tremendous new ethnic, cultural and religious diversity.  In the midst of these major demographic shifts, our communities have a very important choice to make –Will we fear one another as strangers or embrace one another as neighbors?  How we answer this questions will have a significant impact on the economic, social/cultural, artistic, and spiritual future of our nation. 
Our primary goal at FaithAction is to help build model interfaith, multicultural, and immigrant-friendly communities – communities that choose to embrace the gifts of their new diversity, and are committed to turning strangers into neighbors.  Well believe faith communities working together play a significant role in achieving this goal, though our success is dependent upon trusting relationships and innovative partnerships with several community stakeholders including: immigrant leaders, law enforcement, educational institutions, social service agencies, business communities, and arts organizations.
 In April of 2014, the Greensboro City Council unanimously passed a resolution honoring the work of FaithAction, and making Greensboro the nation's first "Stranger to Neighbor" city!
 The resolution declared that Greensboro City Council and other city institutions utilize and recommend the FaithAction-developed, Stranger to Neighbor City model – building bridges of intentional understanding, trust, and cooperation between our newest immigrant neighbors and our diverse city institutions through four interdependent steps: education, exchange, community action, and telling the story – noting the success of several innovative partnerships and programs already created by this model that have led to a safer, healthier, more welcoming Greensboro.  
In our experience there are four primary steps to measure the progress of becoming a stranger to neighbor community together: 
Education – Understanding the challenges and gifts of our newest neighbors, deepening perspectives and challenging stereotypes, and learning to effectively communicate across lines of culture and faith. 
Exchange – Building consistent and trusting relationships with our newest neighbors, while identifying shared values and the tremendous potential of solving community problems and working towards the common good together. 
Community Action – Assessing what has been learned and experienced in the first two steps, and working together towards a community action plan that creates a healthier, safer, more united city for all residents.  
Telling the Story – Using our local and social media to share transforming stories of how education, exchange and action across lines of culture and faith turn strangers into neighbors, and benefits the life of the entire community.
Throughout our website, newsletters, and Facebook page you will find exciting examples of our diverse community taking steps together to achieve this inspiring goal.  We look forward to sharing our experience and hopes with you.  
If you are interested in working with FaithAction to create a plan for your own community's progress and goals based on our Stranger to Neighbor model, please contact Executive Director Rev. David Fraccaro at 336-379-0037, ext 2, or dfraccaro@faihouse.org.