Take Action Together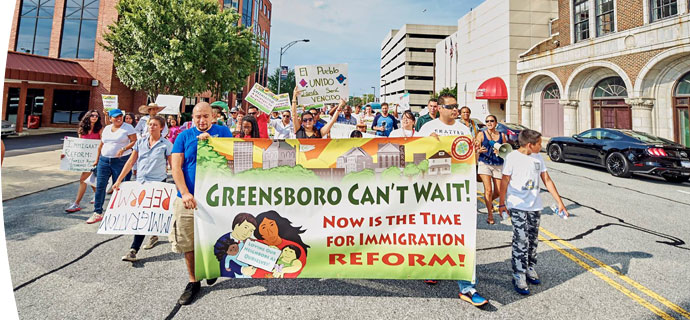 We are in the midst of the most concerning and difficult time around immigration in recent history.  Whether you belong to a particular religion or simply believe in having faith in one another, now more than ever, we need people like you to put their faith into action, and to serve, love, and protect their neighbors.
1) Speak Out and Change the Story – use social media, newspaper editorials, and public signs to creatively and boldly express your love and support of your newest immigrant and refugee neighbors. Continue to build relationships through Stranger to Neighbor dialogues and events, and participate in unity walks, protests, and press conferences that speak out against any policies that bring harm to the lives of our newest neighbors.
2) Contact your Local, State, and Federal Representatives – Let your federal representatives know how harmful the Executive Orders on immigration and the recent decision to rescind DACA are for our newest immigrant and refugee neighbors – share clear examples and stories.  Tell them to speak out against these policies that are aggressively detaining and deporting our immigrant friends, tearing families apart in our community, and destroying the dreams of our most promising immigrant youth.  Tell them to urgently support a DREAM or HOPE Act that creates a permanent legal status for dreamers and their families, as well as larger immigration reform that respects the inherent dignity and worth of our immigrant neighbors who deserve safety, dignity, and happiness just as much as the rest of us – fair and humane immigration reform is the solution we need NOW for the long-term safety, health and well-being of our entire community.
3) Fast for Immigrant Families – consider joining FaithAction staff and board members in going without food for at least one day in solidarity with our newest neighbors, and share (by email and social media) with friends, family, elected officials, and others why you are fasting, and what they can do to help (https://docs.google.com/forms/d/e/1FAIpQLSfJq-PsnwHDoLPCd8brgen6dc5L56xLGPkR7eBtJ0jbhP5obQ/viewform).
4) Emergency Support and Accompaniment – be a friend and resource to our newest neighbors, especially in times of concern or crisis. Consider accompanying people to important appointments, being "on call" in case of an emergency, providing funding for other forms of support (food, housing, healthcare – email jose@faihouse.org and we will add you to an emergency response and assistance  list serve).
Volunteer opportunities, important updates, and upcoming events are posted on our Facebook page!