Get Involved
Latest News
28 Jun 2017
See more FaithAction news
Take Action Together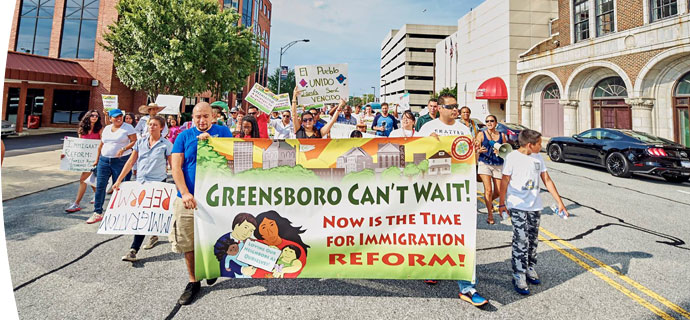 At the core of our service, education, bridge-building and leadership work is faith in action – action that promotes the well-being and human rights of our newest immigrant and refugee neighbors, and action that educates and connects our diverse community across lines of culture and faith for the common good.  
There are many ways to take action through FaithAction:
Call your elected officials today to support comprehensive immigration reform that creates a pathway to citizenship and keeps immigrant families together.  
Become a volunteer and accompany our newest immigrant neighbors on the road to self-sufficiency, citizenship and greater community engagement.
Participate in our monthly  Stranger to Neighbor Dialogues, and becoming a leader for your faith community as a Stranger to Neighbor Congregation.  
Collect food, food cards, diapers, and toys for the holidays for our immigrant friends.
Write blogs and editorials in social media and local press, faith community newsletters, and university newspapers that voice your values on immigration, and multicultural and interfaith cooperation.
Share what you have learned and experienced with family, neighbors, and friends.
Volunteer opportunities and events are regularly updated in our monthly newsletters and on our Facebook page!