Stranger to Neighbor Congregations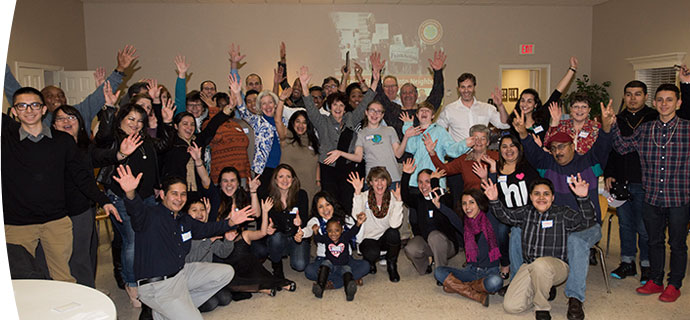 A strong majority of religious Americans said that following the Golden Rule – "providing  immigrants the same opportunity that I would want if my family were immigrating to the US" –is a very or extremely important value – Public Religion Research Institute study
All faith communities have shared values of welcoming the stranger, unity amongst diversity, and the dignity of every human being as a valued part of creation.
Stranger to Neighbor Congregations seek to build bridges of understanding and cooperation between diverse faith communities and their newest immigrant neighbors through education, exchange and action.

Education – S2N congregations participate in FaithAction trainings and seek resources that help congregants learn more about our newest immigrant neighbors – including scriptural studies on the gifts of "welcoming the stranger," and the urgency of interfaith and multicultural cooperation for the common good.
Exchange – S2N congregations build bridges — eat, play sports, sing, share stories and culture – with their newest immigrant neighbors, while discovering shared values and points of continued cooperation and learning across lines of culture and faith.
Action – S2N congregations discern and pray about what they have learned and experienced, then consider concrete actions that help create a more welcoming and inclusive community for all.
FaithAction staff will act as consultants to interested congregations who will determine their own focus and pace in becoming a Stranger to Neighbor Congregation.  For more information or to schedule a meeting, please contact Rev. David Fraccaro at 336-379-0037, ext 2# or dfraccaro@faihouse.org.