Programs
Latest News
9 Aug 2017
See more FaithAction news
Stranger to Neighbor Events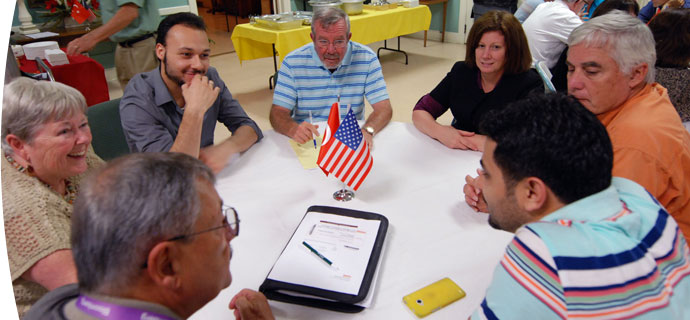 If we are to become a model interfaith, multicultural, and immigrant friendly city we must begin with each of us stepping outside our comfort zones – building relationships across lines of culture and faith, turning strangers into neighbors.
Stranger to Neighbor Dialogues provide bi-monthly opportunities for Greensboro's current residents to eat, learn from, and share stories with their immigrant and refugee neighbors. Each dialogue focuses on the gifts of one particular religious or cultural group through the arts and community leader presentations, followed by small group dialogue and large group reflections.  Recent dialogues have featured our diverse Southeast Asian, Muslim, Latino, West and Central African, LGBTQ, Middle Eastern, and Sikh communities in the Piedmont Triad.
Don't miss our next S2N event – FaithAction's Annual Downtown Unity Walk – on Saturday August 5th!  Join hundreds of diverse neighbors to walk and speak out for fair and humane immigration reform.  We will meet at FaithAction (705 N. Greene St) at 11am, the walk will begin at 11:30am, and the walk will end by 1pm with an interfaith vigil, dance, and pictures.
You can also join our e-newsletter list serve or "like" our Facebook page for more on upcoming S2N Dialogues information and RSVP opportunities, or call 336-379-0037 for more information.