Stranger to Neighbor Events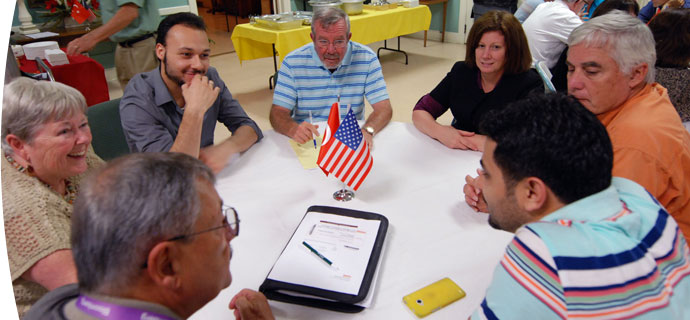 If we are to become a model interfaith, multicultural, and immigrant friendly city we must begin with each of us stepping outside our comfort zones – building relationships across lines of culture and faith, turning strangers into neighbors.
Stranger to Neighbor Dialogues provide bi-monthly opportunities for Greensboro's current residents to eat, learn from, and share stories with their immigrant and refugee neighbors. Each dialogue focuses on the gifts of one particular religious or cultural group through the arts and community leader presentations, followed by small group dialogue and large group reflections.  Recent dialogues have featured our diverse Southeast Asian, Muslim, Latino, West and Central African, LGBTQ, Middle Eastern, and Sikh communities in the Piedmont Triad.
In light of uncertain and difficult times, don't miss our next Stranger to Neighbor event – DANCE IT OFF, !A BAILAR! on Thursday, March 2nd at Artistika Nightclub (523 S. Elm Street).  With the recent Executive Orders on immigration, this is a great opportunity for community allies and our newest immigrant neighbors to meet, dance, and discuss ways to protect and support one another.
The event starts at 7:00pm and will be followed by a Kizomba dance class at 9:30pm (no partner required, no experience necessary). After the class is over, please join us in practicing what we have learned and dancing our worries away!  All who attend the Stranger to Neighbor Event at 7:00pm will gain FREE entry to the class and open dancing for the rest of the evening.

You can also join our e-newsletter list serve or "like" our Facebook page for more on upcoming S2N Dialogues information and RSVP opportunities, or call 336-379-0037 for more information.