Stranger to Neighbor Events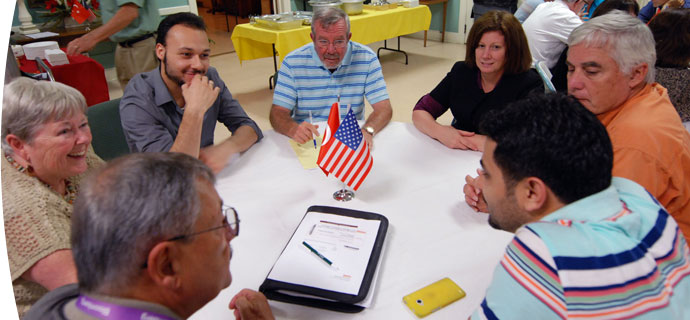 If we are to become a model interfaith, multicultural, and immigrant friendly city we must begin with each of us stepping outside our comfort zones – building relationships across lines of culture and faith, turning strangers into neighbors.
Stranger to Neighbor Dialogues provide bi-monthly opportunities for Greensboro's current residents to eat, learn from, and share stories with their immigrant and refugee neighbors. Each dialogue focuses on the gifts of one particular religious or cultural group through the arts and community leader presentations, followed by small group dialogue and large group reflections.  Recent dialogues have featured our diverse Southeast Asian, Muslim, Latino, West and Central African, LGBTQ, Middle Eastern, and Sikh communities in the Piedmont Triad.
Don't miss our next S2N event – FaithAction's Annual Multicultural Thanksgiving  – Monday evening, November 13th, from 6-8pm at the Mullin Life Center of First Presbyterian Church (706 N. Greene Street – directly across from FaithAction)!
PLEASE bring a dish from your own culture/ancestry to share, along with a canned food or diaper donation for our international pantry!
ALL WELCOME – come eat, share stories, and give thanks for our wonderful diversity in the Triad. We are happy to have the beautiful Triad Tapestry Children's Chorus and outstanding jazz vocalist Nishah DiMeo perform, along with other local talent.
You can also join our e-newsletter list serve or "like" our Facebook page for more on upcoming S2N Dialogues information and RSVP opportunities, or call 336-379-0037 for more information.