FaithAction ID Initiative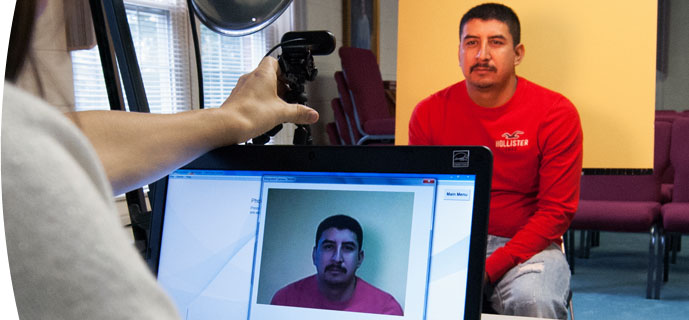 One of the primary challenges facing many new immigrants to our country is how to understand and relate to local law enforcement. Immigrant and other minority communities often experience a lot of fear with police officers, and are especially concerned that an average traffic stop or reporting a crime might turn into an immigration enforcement case.
At the same time, many officers may not be familiar with the languages and cultures of our newest immigrant neighbors, and feel limited in their ability to serve and protect these communities without stronger relationships.  In response, FaithAction began coordinating bi-monthly dialogues and forums between the Greensboro Police Department and immigrant/minority communities, with the goal of building bridges of greater understanding, trust, and cooperation.
These dialogues provided a safe space for immigrants and other residents to share their fears and hopes of relating to local law enforcement, while officers clarified policies and expected behaviors, and ensured participants that their role is to serve and protect all residents in our community, not enforce federal immigration laws or participate in any kind of racial profiling. Tremendous progress has come through open, respectful dialogue and a willingness to listen and learn from one another.
In 2012, FaithAction was awarded the GPD Chief's Award for this bridge-building work, and with the support of the GPD launched the FaithAction ID initiative in the summer of 2013, providing identification for ANY RESIDENT in our community who may not have access to government issued forms of ID (including: immigrants, youth, elderly, LGBTQ community, special needs), and for ALL those who support the mission and work of FaithAction. Since this time we have held 30 ID orientations and drives in partnership with law enforcement, health agencies, faith communities congregations, and alongside our FaithAction ID Network partners we have now delivered over 10,000 ID cards to individuals representing over 40 different nations, and over 60 cities throughout North and South Carolina, Virginia, and Ohio – from West African business owners to new families from South and Central America to a grandmother born 80 years ago in rural North Carolina whose birth records no longer exist, to local faith leaders and city council members who support a diverse and inclusive community.

FaithAction ID cards provide participants with a verifiable form of ID that designated law enforcement, health centers, schools, businesses, and cultural arts organizations can use to better identify, serve, and protect you.  The card also reflects your support of safer, more inclusive and united communities for all. The FaithAction ID card is officially accepted by certain partners (discussed during the orientation), and may or may not be accepted by others, depending on the policy of each institution.
Over the last year numerous cities in neighboring Alamance, Forsyth, Moore, Montgomery, Randolph, Halifax, Durham, Orange and Mecklenburg Counties have joined the FaithAction ID network in North Carolina, and we are proud to welcome Cincinnati, OH and Aiken, South Carolina as our newest network partners. Some FaithAction ID network partners use the exact same FaithAction ID card, while others have their own unique ID card; regardless, all partners are trained by FaithAction staff, and agree to utilize the exact same FaithAction ID drive model and vetting system in order to receive an ID card.  Network partner further recognize the benefit of sharing insights and best practices across cities and states through monthly meetings and calls.
Next FaithAction ID Drive – Saturday, March 24th in Greensboro!
Our next FaithAction ID orientation and drive will take place on Saturday, March 24th at Sedgefield Presbyterian Church – 4216 Wayne Road in Greensboro, NC.
Doors open at 9am, and all ​participants will receive a number​ ​in the order they arrive. 
All new FaithAction ID card participants:
Attend a mandatory orientation at 10am or 1pm
Provide proof of ID (passport, driver's license, national ID card, matricula consular or embassy ID)
Provide proof of address within 3 months (utility bill, bank statement, medical record, housing lease)
For those renewing their FaithAction ID cards:
This year we will be trying something new to honor your partnership. We will have a special, expedited line for you beginning at 9am to re-check documents (please note – you MUST bring your FaithAction ID card, as well as proof of your current address), and then have your picture taken. We will then send your renewed ID card within a week. You will need to arrive before 10am in order to take advantage of this opportunity. If you come after this time, you will need to join new ID participants and go through the orientation process again at 10am.
FaithAction ID cards are $10 cash. For more information about our next ID drive, call 336-379-0037.
*Please note that the FaithAction ID is not a government issued form of identification or a driver's license, but it is a verifiable form of identification that says you are a part of our community. It can be used as a tool by law enforcement as well as certain city agencies, schools, health centers, businesses, and cultural arts organizations as named in our official partner list.
Thank you to to all of our law enforcement, immigrant and faith communities, health center, school, business, and cultural arts organization partners for your commitment to building a safer, and more inclusive community for all.
If interested in learning more about community ID programs and how we can help build bridges between immigrant communities and local law enforcement/city agencies in your community, please contact Rev. David Fraccaro at 336-379-0037, ext 2 or dfraccaro@faihouse.org.
Faith Action ID Program from Yash Mori on Vimeo.