Immigrant Assistance and Resource Center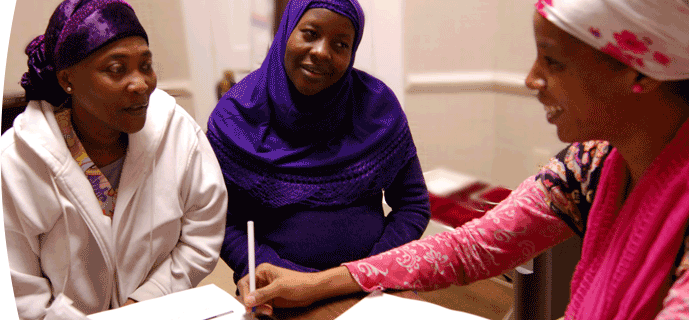 We understand that for many of our newest neighbors navigating a new system can be very difficult.  We assist and advocate alongside thousands of new immigrants each year in need of food, housing, healthcare, interpretation, and many other services through our Immigrant Assistant and Resource Center.  We also provide our clients with the opportunity to connect with a volunteer friend who can accompany them to appointments and events, and assist with english language and computer skills, and job searches.
FaithAction additionally provides safe and confidential space for victims of domestic and family violence. We can provide interpretation and accompaniment services, as well as helpful education, resources, and referrals alongside our trusted partner agencies.
FaithAction is also proud to work alongside and support diverse LGBTQ members of our community. With support from the Guilford Greene Foundation, FaithAction created a resource guide in English and Spanish for immigrants and other residents in our community who may benefit from LGBTQ focused and friendly organizations in the Triad region of North Carolina.
Our staff speak Spanish, English, and French, and we will help clients find interpretation for other languages.
Our Immigrant Assistant and Resource Center open hours are:
Tuesdays – 2-6pm
Wednesdays – 9-1pm
Thursdays – 2-6pm
*Please note the IAC is closed the last week of every other month – Feb, April, June, Aug, Oct, and Dec.
For all other times, please email or call staff members to set up an appointment!
IAC staff include: Lauren Holt – lauren@faihouse.org, ext 3, and Jose Bernal – jose@faihouse.org, ext 1.